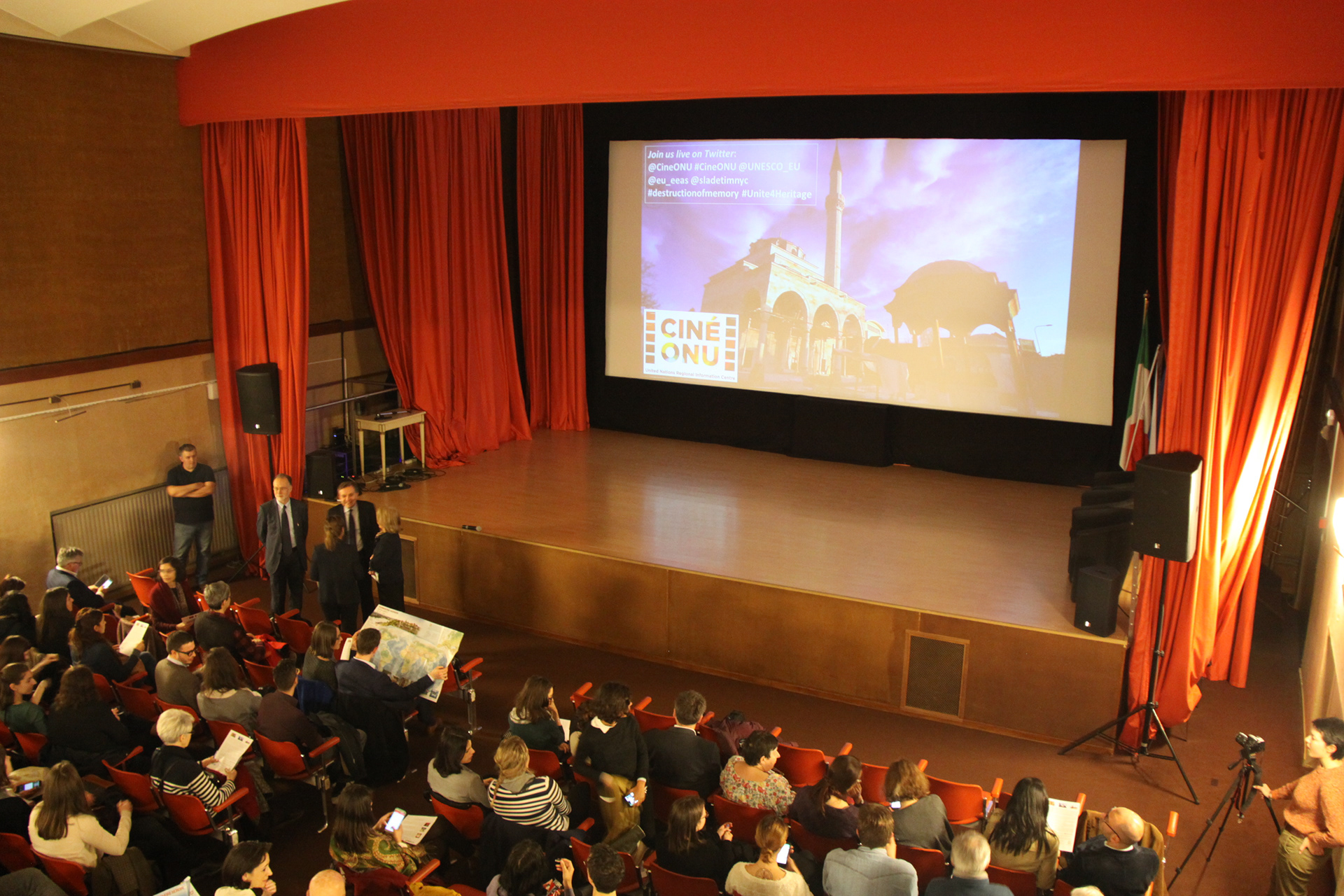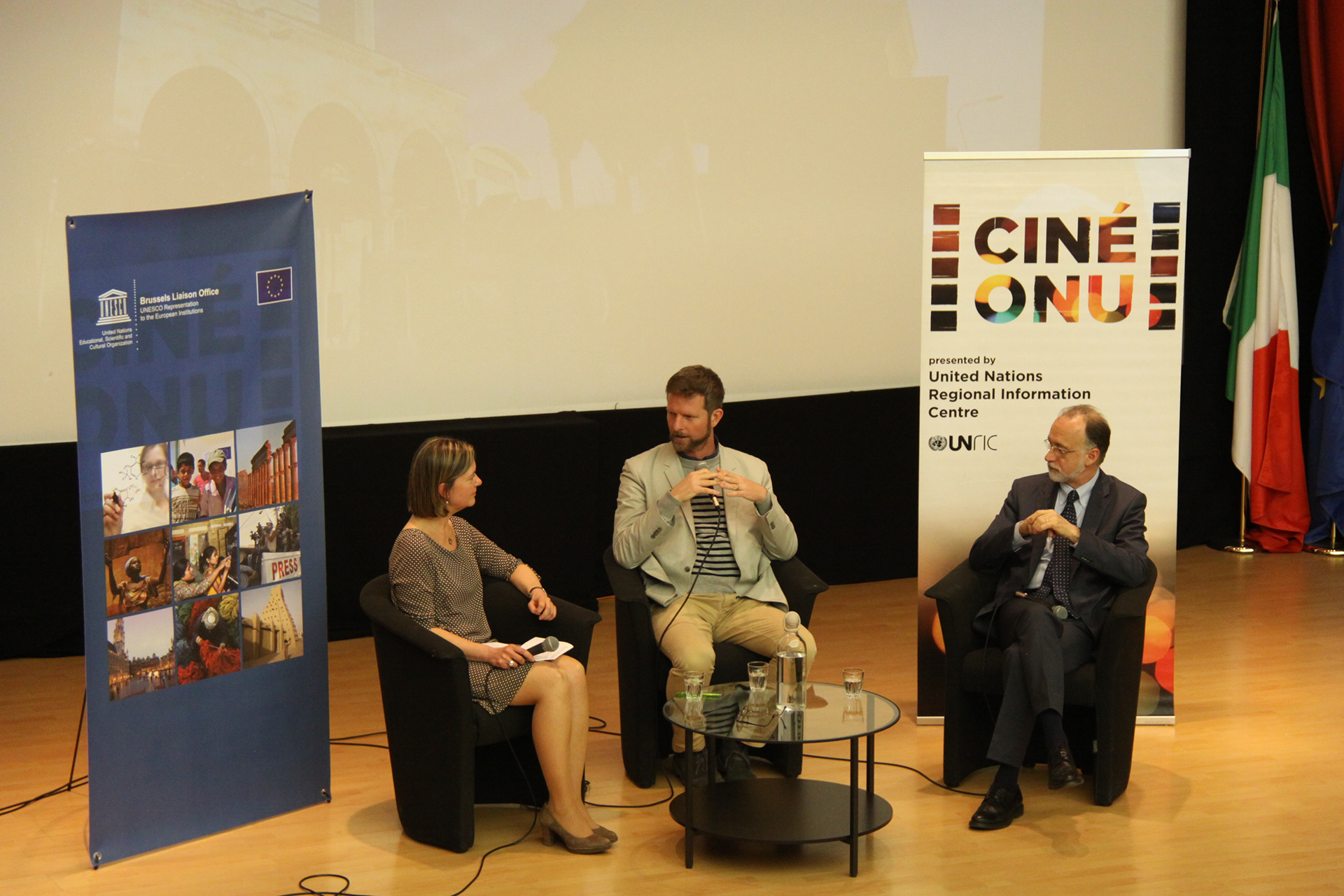 The film has screened in a wide range of settings, including at the British Museum, for UNESCO, at universities such as Harvard, Brown and Oxford, at film festivals globally and on broadcast television. To explore a screening in your location, and to find out about French, German, Arabic and Spanish subtitled versions, please
email us
. 
(Images above courtesy UNRIC)
HAMPDEN-SYDNEY COLLEGE, VA 
 WED NOV 7
SWEET BRIAR COLLEGE, VA 
 THUR NOV 8
CASTLETON UNIVERSITY, VT 
 TUES NOV 13
COLLEGE OF ST JOSPEH, VT 
 WED NOV 14
COLLEGE OF WILLIAM & MARY, VA 
 FRI NOV 16
​​​​​​​
BROOKLYN COLLEGE, NY 
 TUES DEC 4
2019 will include screenings in Canada, Switzerland, Italy, Germany, Sweden, Norway, and in the USA at Harvard Law School and Pennsylvania Academy of the Fine Arts. 2019 screenings will continue to be posted here.
ANTHOLOGY FILM ARCHIVES, NEW YORK CITY 
CITE DE L'ARCHITECTURE ET DU PATRIMOINE, PARIS 
BRITISH MUSEUM, LONDON 
NBCUniversal Private Screening Rooms, LONDON  
SCOTTSDALE MUSEUM OF CONTEMPORARY ART, AZ  
TELEVISION: CANVAS (BELGIUM, FLEMISH LANGUAGE)
THE NELSON-ATKINS MUSEUM OF ART, KANSAS CITY MO
SOUTHPORT, CT 
RUTGERS UNIVERSITY, NJ 
ROCHESTER UNIVERSITY, NY 
CORK OPEN HOUSE FILM FESTIVAL, CORK, IRELAND 
BOSNIAN ACADEMY, BOSTON MA 
THE GAINES CENTER FOR THE HUMANITIES, LEXINGTON KY 
ARQUITETURAS FILM FESTIVAL, LISBON, PORTUGAL 
BROADCAST: SVT, SWEDEN 
MISSOURI HISTORY MUSEUM, ST LOUIS MO
RICE UNIVERSITY, HOUSTON TX
ROYAL ACADEMY OF ARTS, LONDON
ART CRIME AND CULTURAL HERITAGE SYMPOSIUM, NYU 
INSCIENCE FILM FESTIVAL, NIJMEGEN, NETHERLANDS 
PROGRAMS IN MUSEUMS AND SOCIETY, JOHN HOPKINS UNIVERSITY, BALTIMORE, MD 
GLOBAL HERITAGE FUND/AUTODESK, SAN FRANCISCO, CA 
DARTMOUTH COLLEGE, CT, 
BERKELEY UNIVERSITY, BERKELEY, CA  
URBAN EYE FILM FESTIVAL, BUCHAREST, ROMANIA 
JOUKOWSKY CENTER, PROVIDENCE, RI 
CYARK HOSTED SCREENING, STANFORD, CA 
ARKHAIOS FILM FESTIVAL 
* GRAND PRIZE AND AUDIENCE AWARD WINNER *
CATASTROPHE AND CHALLENGE: CULTURAL HERITAGE IN POST-CONFLICT RECOVERY, COTTBUS, GER TUE
NYU INSTITUTE OF FINE ARTS 
MANCHESTER MUSEUM 
ISMAILI CENTRE, TORONTO 
UNIVERSITY OF MICHIGAN, ANN ARBOR 
3SAT BROADCAST, GERMANY, AUSTRIA, SWITZERLAND    
STANFORD UNIVERSITY, CA 
PARSONS SCHOOL, NEW YORK CITY 
MELBOURNE UNIVERSITY, VIC, AUSTRALIA 
SYDNEY UNIVERSITY, NSW, AUSTRALIA 
INDIANA UNIVERSITY CINEMA, BLOOMINGTON 
UNESCO SCREENING, BRUSSELS, BELGIUM 
RIJKSMUSEUM VAN OUDHEDEN, NETHERLANDS
UNESCO SCREENING, VIENNA, AUSTRIA
FESTIVAL OF TOLERANCE, ZAGREB, CROATIA
ARMENIAN MUSEUM OF AMERICA, WATERTOWN, MA
THE COSMOPOLITAN CLUB, NY
ARCHAEOLOGY CHANNEL FILM FESTIVAL, USA
COPENHAGEN ARCHITECTURE FESTIVAL, DENMARK
CITY BAR ASSOCIATION, NYC, NY
PENN MUSEUM, PHILADELPHIA, PA
KEAN SUMMER INSTITUTE CONFERENCE, NJ 
PRIVATE SCREENING, PORTUGAL
JEWISH MUSEUM, SYDNEY, AUSTRALIA
BOSTON ARCHITECTURAL COLLEGE, MA
FESTIVAL SILENCIO, LISBON, PORTUGAL
ARCHAEOLOGICAL SOCIETY OF ALBERTA, CANADA
HUDSON MUSEUM, UNI OF MAINE, ME
LUND INTERNATIONAL ARCHITECTURE FILM FESTIVAL, SWEDEN
ARCHITECTURE FILM FESTIVAL, ROTTERDAM, NL
CINARCHEA, BRANDENBURG AN DER HAVEL, GERMANY
TORONTO SOCIETY OF ARCHITECTS (PRIVATE)
AMERICAN INSTITUTE OF ARCHITECTS, UK CHAPTER (PRIVATE)
CORNELL UNIVERSITY, ITHACA, NY
LAVALE UNIVERSITY, MONTREAL, CANADA
FESTIVAL CINE MEMORIA, BELO HORIZONTE, BRAZIL
1954 HAGUE CONVENTION HIGH CONTRACTING PARTIES MEETING, UNESCO PARIS
UNIVERSITY OF EAST LONDON, UK
PRIVATE SCREENING, MELBOURNE, AUSTRALIA
WOODBURY UNIVERSITY, HOLLYWOOD, CA
WASHINGTON STATE UNI, PULLMAN, WA
SAN DIEGO MUSEUM OF ART, CA
UNIVERSITY OF LANCASTER, UK
ARKITEKTURFILM FESTIVAL, OSLO, NORWAY
THE COLLEGE OF NEW JERSEY, TRENTON, NJ
BINGHAMTON UNIVERSITY, NY
TILBURG ARCHITECTURE FILM FESTIVAL, THE NETHERLANDS
PRIVATE SCREENING, LONDON, UK 
PRIVATE SCREENING, LONDON, UK 
PRIVATE SCREENING, UDINE, ITALY 
PRIVATE SCREENING, VENEZIA, ITALY 
PRIVATE SCREENING, PISA, ITALY 
PRIVATE SCREENING, SIENA, ITALY 
PRIVATE SCREENING, FIRENZE, ITALY 
UNIVERSITY SCREENING, SYDNEY, AUSTRALIA 
ART GALLERY OF NSW, SYDNEY, AUSTRALIA 
UNIVERSITY SCREENING, SYDNEY, AUSTRALIA 
UNESCO SCREENING, DEN HAAG, NL 
PRIVATE SCREENING, MOGADISHU, SOMALIA 
LAFAYETTE COLLEGE, PA 
CAMBRIDGE FESTIVAL OF IDEAS, UK 
INT'L ARCHAEOLOGY FILM FESTIVAL, BORDEAUX, FRANCE 
FRAMINGHAM UNIVERSITY, MA